Adam Schlenker's Family Tree (Available on Itunes)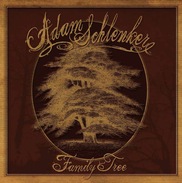 The Family Tree concept embraces the influences of roots music and then presents them in an organic, heavily improvised, acoustic fashion. This music, like a family, is diverse, full of influences, opinions, points of view and experiences. The Family Tree is more of a rotating cast of characters than a band. Much like a large family, you're never sure who'll show up for dinner but the conversations are guaranteed to be diverse and interesting.

During the spring of 2012 Adam Schlenker began arranging and compiling songs for a new album. It became evident early on that this would be an eclectic collection of acoustic sounds and styles. Adam really wanted to let all of his influences into this project, not limiting it to the standard flat pick guitar catalog. Some things emerged as solo guitar arrangements and some things were best suited as a sparse duo. The duo's ended up ranging from two guitars, guitar and mandolin, to guitar and upright bass. Occasionally the trio sound, guitar-mandolin-bass, became the ensemble of choice.

---